Christmas is a wonderful festive holiday and what better way to celebrate than with gorgeous Christmas ales? Today you have plenty of choice in lovely winter beers from all over the world like Belgium, Germany, Britain and the US. 
What Beers go well with your Christmas Roast?
Beer and food matching is not an exact science. There are no rules, just guidelines. Like probably don't have a stout with a Caesar salad, or a smoked beer with raspberry jelly.
But then there are some rules that are meant to be broken. Some IPAs are stunning with carrot cake, and kriek (cherry) beers are mouthwatering with goat's cheese.
But the chaos really starts when it comes to matching a beer with a roast. There are so many components. Rich gravy, sweet vegetables, earthy potatoes and savoury meat. And that's before you're even talking condiments. With Christmas dinner that could be bread sauce, cranberry sauce, mustard… how do you come up with one beer that matches all of that? Do not Fear, The Beer Gals have got you covered!
Be it a zesty IPA, a crisp, clean blonde ale, a chocolatey stout or a wintry spiced seasonal to sip by the fire, there's a beer to match whatever you're serving, so why not give Irish craft beer a place at the table this Christmas? The right beer matched with the right food will make the meal sing.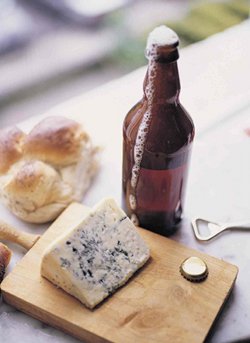 Pre-dinner snacks
If you want something to sip while the nibbles are being passed around, start off with an all-purpose lager, a light pilsner or even a wheat beer.
Beers to try: Stella, Lowenbrau, Jupiler, Diekirch Premium
Goose
Goose is very rich, so you want a zingy ale or IPA to cut through the fat and refresh your palate.
Beers to try: Tiny Rebel Cali Pale or Clwb Trop, Leffe Blonde
Ham
A fruity ale is a good complement to a traditional glazed ham, which is both salty and sweet. An Oktoberfest märzen lager is also a good match.
Beers to try: Oktoberfest Spaten, Oktoberfest Lowenbrau, 
Turkey
If you want to complement the roasted flavours of a turkey, serve a malty red ale or a dubbel. Otherwise, a crisp, clean blonde ale is a good all-round choice if you want a beer that will contrast with the meat and all the different side dishes without overpowering the food.
Beers to try: Leffe Blonde, Diebels
Christmas pudding and chocolate
A dark, dense Christmas pudding or cake cries out to be paired with an equally dark stout or porter, while the espresso and chocolate undertones in many stouts are a natural partner for chocolate desserts.
Beers to try: Magic Rock Dark arts, Leffe Noel, Leffe Brune, Diebels
For contemplative sipping
If you're looking for one final beer to finish off the feasting, go for a heavy-hitting special edition, such as the Porterhouse Barrel Aged Celebration Stout, which has been matured in Kilbeggan Irish whiskey casks and has a whopping 11% ABV – this is one to be sipped in a snifter. Or if you want to finish on a sweeter note, go for the orange, clove and cinnamon spices in the Eight Degrees A Winter's Ale or the berry, coffee and toffee flavours of the White Gypsy Yule Ól.
Beers to try: Triple K, KWAK, Goose IPA
Visit our online store and find your perfect Christmas beer www.thebeergals.com